BERLIN BRIDGE BR#38S
IM DECK(45) Berlin
REPLACEMENT OF DECK AND MINOR RELATED WORK ON BRIDGE 38S ON I 89 IN BERLIN OVER VT 62
The Berlin Bridge 38S deck replacement is part of a project with four deck replacements for Bridges 37 and 38. The bridges proposed for deck replacement are located in the Town of Berlin in Washington County on I-89 over Crosstown Road and VT 62. Bridges 38 N and 38 S are located adjacent to I-89 exit 7, and bridges 37 N&S are located just south of bridges 38.

The project includes deck replacement of four Bridges 37N, 37S, 38N and 38S. The existing bridge railings and approach railings will be replaced with new railings that meet the current design standards. The bridges are owned and maintained by the State of Vermont.

The existing structures are a single span cast-in-place deck on steel beams and a two span cast-in-place deck on steel beams both constructed in 1970. The bridge decks are in 'fair' to 'satisfactory' condition while the superstructure and substructure are in 'good' to 'very good' condition. VTrans bridge inspectors have observed areas of heavy saturation, cracking, and efflorescence in the deck which is evidence of significant concrete deterioration.

VTrans evaluated several alternatives to preserve and extend the service life of the I-89 bridges in an engineering study completed in July of 2016. The study assessed the proposed design criteria for lane and shoulder widths, safety criteria, and historic requirements. Several alternatives were considered including, no action, concrete deck patching, and deck replacement. The study also considered a number of traffic maintenance options such as a short term bridge closure and phased construction.

The engineering study recommends replacing the existing bridge deck in phases while maintaining traffic through the I-89 corridor using crossovers to the opposite barrel of the interstate. The recommendation is to replace both northbound bridges simultaneously and then switch traffic partially over to construct both southbound bridges. During northbound construction, Exit 7 exiting traffic will be maintained on a temporary off ramp while through traffic is maintained on the southbound barrel. The construction of the southbound bridges will be completed in two halves, and the southbound traffic will be maintained partially through the southbound bridges and partly through crossovers to northbound barrel. During southbound construction, Exit 7 on-ramp traffic will be maintained through the existing on ramp.

The new bridge deck will be constructed using a hybrid between conventional construction methods (cast-in-place concrete) and accelerated construction methods (stay in place forms). By applying this cost-effective treatment at the right time, the useful life of the structure will be extended another 40-50 years. This provides the largest benefit for the lowest cost when compared to the other bridge treatment alternatives.

---
Maintenance of Traffic: Traffic will be maintained through the project corridor.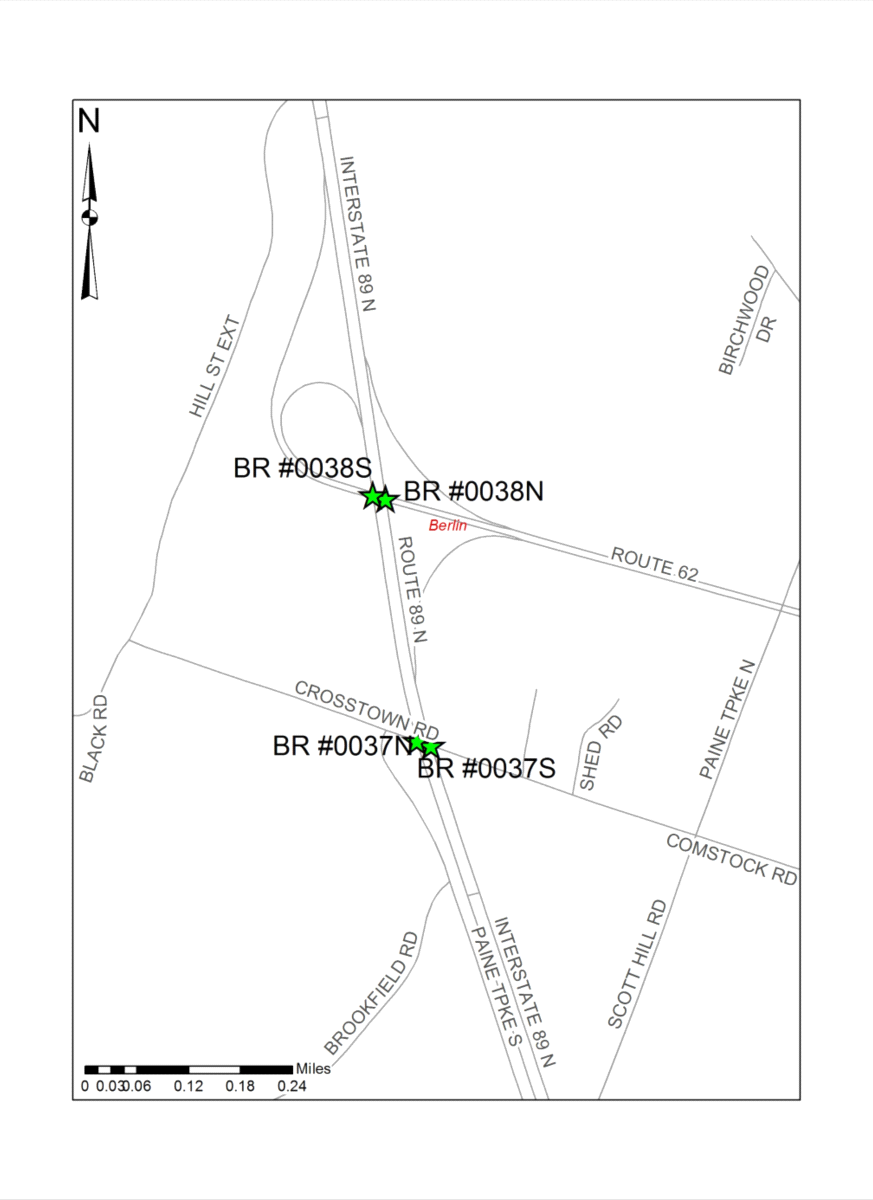 Bridge Location Map
---