SALISBURY-CORNWALL BRIDGE BR#8
BO 1445(39) Salisbury
REPLACEMENT OF BRIDGE NO. 8 ON TH1 OVER OTTER CREEK, ON EXISTING ALIGNMENT.
Project Location: The bridge is located over the Town boundary line connecting Creek Road (Salisbury/TH 1) to Swamp Road (Cornwall/TH 3).

The Salisbury-Cornwall Bridge 8 project includes a new bridge over the Otter Creek where the previous covered bridge was located. The previous structure was a Town Lattice Covered Bridge and had a length of 154-feet. The bridge was constructed in 1865, reconstructed in 2008and was destroyed by a fire in 2016.

VTrans evaluated alternatives for a replacement structure in an engineering study completed in October 2021. This study assessed the proposed design criteria for the structure, Right-of-Way, rare/threatened/endangered species impacts, and hydraulic considerations. Several alternatives were considered, including: a new conventional steel beam bridge, a new truss, or a new covered bridge.

Given the age of the structure, site constraints and current conditions, the engineering study recommended a new bridge with traffic maintained on an offsite detour. The type of structure will be chosen by the Town's of Salisbury-Cornwall with input from the public.

It is anticipated that the bridge will be constructed during the summer of 2025. It is possible this could move a year due to budget, Right-of-Way, or environmental permitting.
What will the new bridge look like?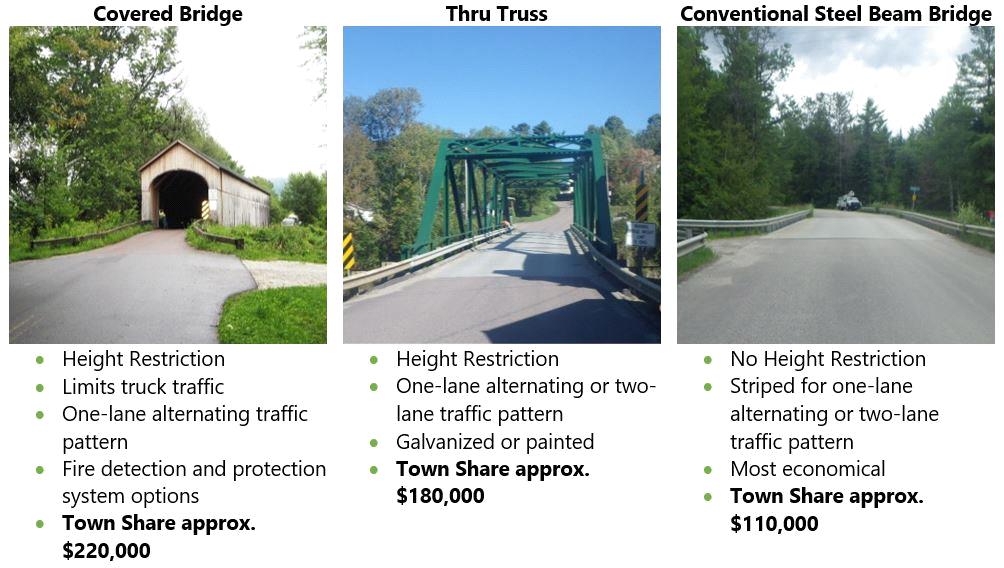 Traffic will be maintained on an offsite detour during a construction season.

Link to project website:
https://outside.vermont.gov/agency/vtrans/external/Projects/Structures/18J164

---